CNN posted a piece covering 18 inspired cocktails made in the Philippines and 2 of them were created by the Liquid Kitchen!  Both can be tasted at the Raffles Hotel in Makati. The Panutsa Old Fashioned incorporates a panutsa (regional palm sugar that is aged in coconut shells) syrup  that adds an amazing rich flavor.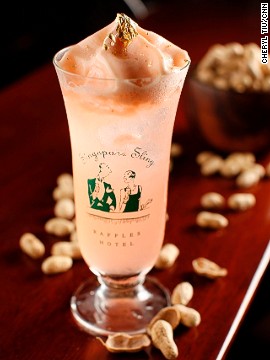 The Makati Sling
(Photo by Cheryl Tiu/CNN)
And the Luxury Makati Sling,  an inspired variation of the classic Singapore Sling. The drink features gin, tropical flavors, a hint of cherry blossom, and is topped off with a luscious Angostura Foam and 24k edible gold!
If you ever find yourself headed to the Philippines, definitely try these drinks out! -Kathy